18" Ash Brown (#8) 50S Stick Tip Human Hair Extensions
STATUS: FAST SHIPPING SKU:
HP12790
Start With: £43.95
Wholesale Customer Inquiry
Quick Overview
TYPEI TIP
MaterialRemy Human Hair
ColorAsh Brown(#8)
Length18 Inches
TextureStraight
Quantity50 Strands
Item Weight1g/Strand
Product Description
Life6 To 12 Months
Contents

100% remy human hair extensions and very competitive price
Stick Tip/I-Tip hair
Can be washed, heat styled.
High quality, tangle free, silky soft.
300-400 strands are recommended for whole head.

Product Description
Fusion hair extensions are widely known for their convenience and the softness on your normal hair. Moreover, its variety of appealing colors make makes the extensions highly acclaimed item in the world of hair extensions. In addition, it gets you many more benefits that you will not get from other options offered on the market.
Fusion Hair Extensions come in a variety of patterns and shades. I tip hair extensions. Also, called Stick Tip Hair Extensions, the extensions already have an "I" shaped glue meant to attach the extension to the tip of your hair. It is simple and can be done using an extension or iron or a ring. In the case of the ring, there is no heat applied to the hair to attach.
Parahair Fusion Hair Extensions are made of fine grade Indian Remy hair. It is 100% human hair handpicked and collected by experts so the quality of the hair is of paramount.
NEED HELP? CALL US
Call Toll-Free +1 (800) 832-0618
Mon-Fri, from 9AM - 6PM CST
Shipping

Standard Express Shipping: 4-6 Business days
Fedex Express Shipping: 3-4 Business days
DHL Expedited Shipping: 2-3 Business days
PAYMENT

PRODUCT SHOW
OVERVIEW
| | | | |
| --- | --- | --- | --- |
| LIFE | 6 To 12 Months | Brand | Parahair |
| Color | Ash Brown (#8) | Weight | 50g |
| Material | Remy Human Hair | Length | 18 Inches |
| QTY | 50 Strands | Clips | - |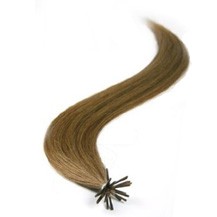 How to
Apply
step1

Separate the hair into two sections

step2

Grap hint of hair with pulling needle

step3

Side the hint of hair through the tube

step4

Hold the tube 0.5 to 1.0 inch from scalp

step5

Insert I Tip point hair through the tube

step6

Flatten the tube

step7

Finished the first piece, try more

step8

Finished the full head.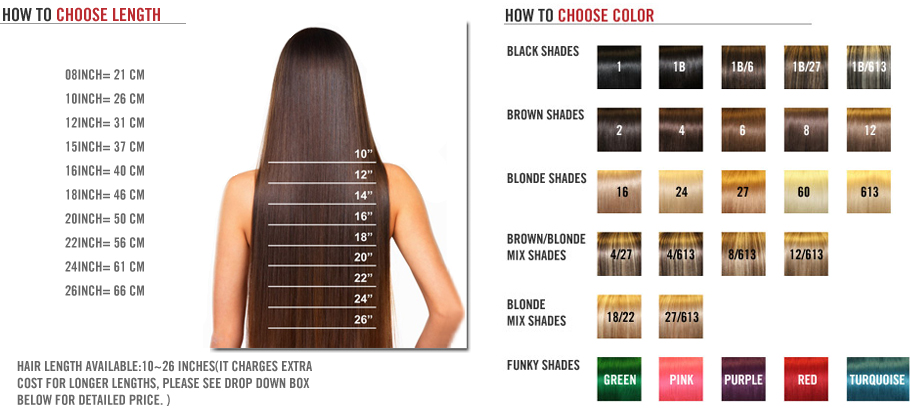 Quality

Value

Price

Support

Overall

Fast Delivery ! Reviewed by Anne D.(Posted on Mon,May 20 2019)

Quality

Value

Price

Support

Overall

Good Hair Reviewed by Isabella(Posted on Thu,May 9 2019)

Quality

Value

Price

Support

Overall

Really good for the price! Reviewed by Retana(Posted on Mon,Apr 8 2019)

Quality

Value

Price

Support

Overall

Great hair extensions Reviewed by Amelia(Posted on Tue,Apr 2 2019)

Quality

Value

Price

Support

Overall

High Quality Hair Reviewed by Harmony(Posted on Wed,Mar 27 2019)

Quality

Value

Price

Support

Overall

Happy Reviewed by Jessica(Posted on Thu,Mar 14 2019)

Quality

Value

Price

Support

Overall

superior length Reviewed by Quesada(Posted on Wed,Mar 6 2019)

Quality

Value

Price

Support

Overall

far superior then others Reviewed by Pung(Posted on Wed,Feb 27 2019)

Nickname*

Summary of your Review*
How to Apply Fusion Hair Extensions
Step: One

Start sectioning the hair from bottom to top.

Step: Two

Insert template to root to protect scalp from heat.

Step: Three

Twist strands to ease placing pre tipped hair.

Step: Four

Place Pre tipped hair under client`s hair, holding with one hand.

Step: Five

Place hair connector Tool under hair.

Step: Six

Pinch smoothly for about 3 seconds to melt and smear glue into every hair stand.

Step: Seven

Roll fused part with fingers and try to close tightly.

Step: Eight

Finished - Do not shampoo or condition hair within 24 hours.
How To Remove Fusion Hair Extensions
Step: One

Dropped 3 drops remover on the glued part.

Step: Two

Energize remove the glue break use flat pliter.

Step: Three

Separate pre-tipped hair from your hair.

Step: Four

Use comb or shampoo to clean the glue residue out.
Multiply payment methods are available now. Each of them are secure and easy to go with
1.Pay via paypal express
You will be redirected to PayPal website and pay directly with your paypal account if you have one. it is very fastest way to completle the payment.
2.Pay via paypal Standard
You will be redirected to PayPal website when you place an order.
If you have a paypal account, you can log in your account and pay with it.
If you don't have paypal account, it doesn't matter. You can also pay via paypal with you credit card or bank debit card.
Payment can be submitted in any currency.

3.Pay via Credit Card / Visa, Mastercard, AMEX, JCB, Diners
Note: Please choose one payment methods at your convenience. Remember to try another if you can not go through one. Don't Worry! we only charge you once. the order will be cancelled automatically if your payment didn't go through.
Quality of Our Extensions
Q.
What type of Hair is used in Extensions?
A.
We used 100% Human Hair in our Extensions. Nothing beats the versatility of human hair extensions. Human hair, unlike synthetic hair can be straightened with a flat iron, curled with heat, or chemically treated to perm or dye the hair. Thin and fine hair becomes full and thicker. Short hair transforms to long, luxurious hair. We guarantee that the hair we sell is 100% Natural Human hair.
Q.
Is your hair Remi, and what is the difference from other hair?
A.
Yes, we use Remi Hair in our extensions. The term 'Remi' or 'Remy' means 'Cuticle correct'. This means that only the finest virgin (Untreated & not previously coloured) hair is used. The hair differs from normal 'Silky' hair that's available on sale, because it is hand picked & aligned so that every single strand runs in the same direction that it grows from the scalp. This ensures that the cuticle on each hair is running the same way (downwards), in order to keep the hair shiny, soft & truly tangle free. After picking & aligning, the hair goes through a gentle but very complicated treatment process, to colour, straighten or wave the hair in the best way. 'Silky' hair has the cuticle removed; whereas 'Remi' hair has the cuticle still intact. So although 'silky' hair is still fabulous for extensions, 'Remi' has a shine like no other & will not matt or tangle when worn for long periods.
Care and Usage
Q.
Can they be straightened, curled or tongued?
A.
Yes, simply because it's real human hair you can straighten and curl the hair. This actually is a test in itself to know if you are not being sold a synthetic product.
Q.
Can I shampoo them and how often should I do that?
A.
Wash them as you would your own. Shampoo and conditioner. Nothing fancy. Please see our Clipin Guide for detailed instructions.
Q.
Can I dry the hair with a hair dryer or use tongs?
A.
Treat the hair as if it is your own. Use a hair dryer or tongs, even when fitted. But as with your own hair, never use a hairdryer or tongs too hot. You will dry the hair and it will not last as long.
Q.
Can I colour the hair?
A.
Yes. The hair can be coloured. As a general rule it is easier to darken the hair than to lighten the hair. But blonde hair has been bleached more so more caution must be taken. Always use a good quality hair dye and test a small sample first.
Shipping Method
Flat Rate
Delivery Time
Area
Standard Express Shipping
£6.95


(Free Over £69)

7-10 business days
Hong Kong, Macau
7-10 business days
Japan, P.R Korea, R.Korea, Mongolia
7-10 business days
Cambodia, Indonesia, Malaysia, Philippines, Singapore, Thailand, Vietnam
7-10 business days
Australia, New Zealand, Papua New Guinea
4-6 business days
Austria, Belgium, Denmark, Finland, France, Germany, Greece, Ireland, Italy, Luxembourg, Malta, Norway, Portugal, Spain, Sweden, Switzerland, U.K.
7-10 business days
Canada, U.S.A.
Please contact us shipping cost
Other country buyer
Fedex Express Shipping
£11.95


(Free Over £99)

5-7 business days
Hong Kong, Macau
5-7 business days
Japan, P.R Korea, R.Korea, Mongolia
5-7 business days
Cambodia, Indonesia, Malaysia, Philippines, Singapore, Thailand, Vietnam
5-7 business days
Australia, New Zealand, Papua New Guinea
3-4 business days
Austria, Belgium, Denmark, Finland, France, Germany, Greece, Ireland, Italy, Luxembourg, Malta, Norway, Portugal, Spain, Sweden, Switzerland, U.K.
5-7 business days
Canada, U.S.A.
Please contact us shipping cost
Other country buyer
DHL Express Shipping
£15.95 (Free Over £129)
2-3 business days
Hong Kong, Macau
2-3 business days
Japan, P.R Korea, R.Korea, Mongolia
2-3 business days
Cambodia, Indonesia, Malaysia, Philippines, Singapore, Thailand, Vietnam
2-3 business days
Australia, New Zealand, Papua New Guinea
2-3 business days
Austria, Belgium, Denmark, Finland, France, Germany, Greece, Ireland, Italy, Luxembourg, Malta, Norway, Portugal, Spain, Sweden, Switzerland, U.K.
2-3 business days
Canada, U.S.A.
2-3 business days
Other country buyer